How to Volunteer for a Ministry
If your church calls for volunteers or asks you to renew your commitment to volunteer, use this procedure to indicate your interest in a ministry.
---
Click the

My Ministry

tab.
Select the

Ministry Opportunities

button to display the

Ministry Opportunities

page.
This page lists all of the volunteer opportunities available in the selected organization. If the list contains several pages, you can filter it to view a subset of records or sort it to organize the information in a way that is meaningful for you.  
See How to Filter Records and How to Sort Records for details.
For example, suppose that you want to view only those ministries for which you have not volunteered. To do this, apply the N (for "No") filter on the Volunteered column: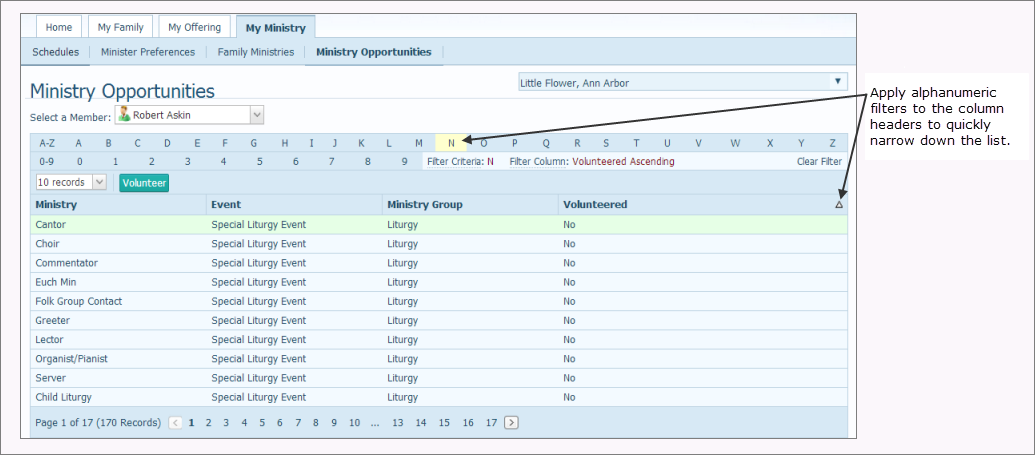 The list updates to show you ministries that matches your filter criteria.
To volunteer for a ministry, click .
The Update Ministry Opportunities window opens.
If you applied filters to the Ministry Opportunities list, the list is filtered based on your filter selections.
Continuing with the previous example, the list includes only those ministries with the Volunteer attribute set to No:

To volunteer for a ministry, check its box in the

Volunteer

column. If you can no longer serve in a ministry, you remove a commitment by deselecting the check box in this column.
Click to save your selections.
Your list of ministries on the Family Ministries page is updated with your selections.
Related Topics
How to View Your Family Ministries